Diane Englert
Audio Description Arts
Audio Describer,
Trainer, Consultant
Audio Description is a service for people who are blind or partially sighted that makes visual content accessible. Audio Description uses concise, objective, vivid language added in between portions of dialogue or songs to increase comprehension, enjoyment and inclusion.
Audio Description
Live events including theatre, opera, dance, museum exhibits, travel, as well as virtual conferences, panels and webinars
Scripting and voicing digital media, film, and television
Training
Working with individuals and organizations, from beginner to advanced levels, Diane will discuss your needs and tailor training to suit your objectives. Workshops include:
An introductory overview that fosters understanding and inclusion while eliminating barriers
Intensive for new describers that includes plenty of practicum
Evaluating experienced describers with actionable steps to improve their skills
Consulting
Diane is available to consult with your organization on your access needs. Maybe you want to start an audio description program, or learn best practices and actions to improve communication and accessibility. Diane can help you in both the on-site and remote workplace.
About Diane Englert
Diane has worked in accessibility services for 25 years as an audio describer, open captioner, consultant, trainer and advocate. She provides audio description for live theatre, opera, dance, virtual workshops and also scripts and voices description for film, television and industrial videos.
Diane was one of the original members of CADA—Committee for Audio Description in the Arts—the organization responsible for bringing audio description to the greater Portland, Oregon region—and served as the program coordinator for five years. She trained audio describers and museum docents to describe live theatre, opera, dance, art exhibits and digital media. In 2002, Diane received a grant to participate in the first Audio Description International conference at the Kennedy Center in Washington, D.C.
Holding a Master of Business Administration from Marylhurst University and a Bachelor of Fine Arts from the University of Utah, Diane worked extensively in arts management as the Artistic Director of an arts-in-healing company and as Executive Director of a musical theatre company.
Diane also works with c2 (Caption Coalition) providing open captioning services for theatre patrons who are deaf or hard of hearing. Clients include: Broadway Across America national tours, Seattle Repertory Theatre, 5th Avenue Theatre, Artists Repertory Theatre and Portland Center Stage.
Diane is a published writer and you may have seen her acting in national commercials or on NBC's Grimm.
Audio Description
Broadway Across America national tours, Oregon Public Broadcasting, Oregon Commission for the Blind, Portland Center Stage, Portland Opera, Northwest Children's Theater, Disability Dance Works LAB, MOB Productions, Artists Repertory Theatre, Portland Playhouse, Broadway Rose Theatre Company, Musical Theatre Company, Portland Repertory Theatre
Clients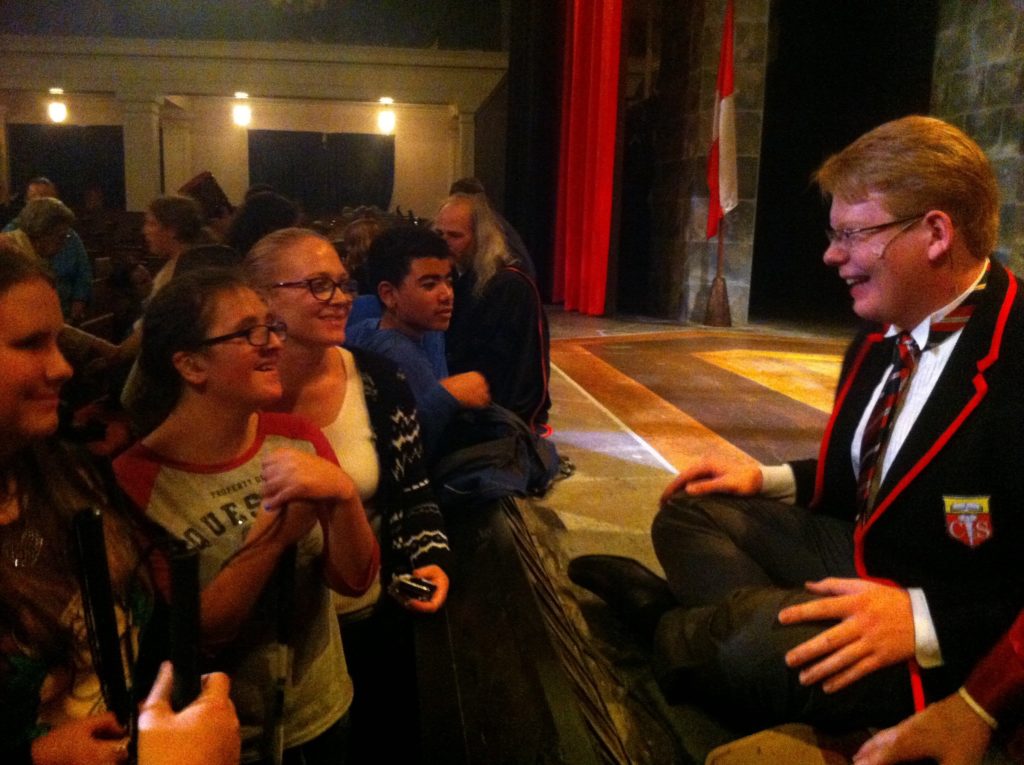 Training and Consulting
T-Mobile, Oregon Commission for the Blind, Portland Art Museum, Access Dance Festival
"It has been my good fortune to work with such a positive, creative, and energetic person as is Diane Englert. Audio description is an art that Diane has mastered. She has been an irreplaceable member of the nonprofit Committee for Audio Description in the Arts (CADA) since its origin in 1995. She has worked tirelessly to bring quality live audio description of adult and children's stage productions to persons experiencing vision loss."
-Frank Synoground
Assistant Director, Rehabilitation Services, Oregon Commission for the Blind Chair, CADA – Committee for Audio Description in the Arts
"Diane's extensive arts background and training combined with her years of audio description were an invaluable asset to Access Dance Festival. Her presentation provided numerous skills for dance instructors and others to use in their class rooms and daily lives to be more inclusive of those who are blind or partially sighted. Her advocacy for artists with visible and non visible disabilities within the arts ignited conversation and instilled personal reflection of what inclusive really means."
-Virginia Belt
Cofounder/Instructor, Dance for Parkinson's Oregon
Artistic Director, Access Dance Festival